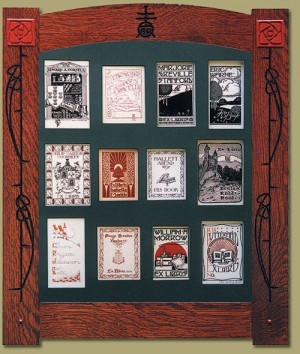 Click for larger image
NO LONGER AVAILABLE- Framed Bookplates
WE'RE SORRY- THIS ITEM IS NO LONGER AVAILABLE--- Set of 12 bookplates designed by Dard Hunter between 1905-1910. This special set was printed in a limited edition of 50 by Dard Hunter II in the early 1970's. The beautifully carved rose and stem frame is made by Roycroft artisan Tom Pafk. The outside dimension measures 21" x 25".
SKU Number: *BKPLAT
---
PLEASE NOTE: Shipping Weights as shown here, especially for multiple items, are estimates. Your actual shipping charges may be less, and will be charged to your card only after exact weight and final shipping charges are determined at the time of shipping.
---



Contents Copyright © 2002-2011 by Dard Hunter Studios and Dard Hunter III. All Rights Reserved.
Please report any problems to webmaster@dardhunter.com.