Tea Blossoms
To celebrate the Tea Blossoms unassuming beauty Yoshiko Yamamoto created this new linoleum block print with the help of Taylor Cox. Double matted in Fern/Summer. Signed and numbered (limited edition of 200). Hand illuminated with gold ink and powder. Mat size 14 x 17. Frame size 17 x 20.
---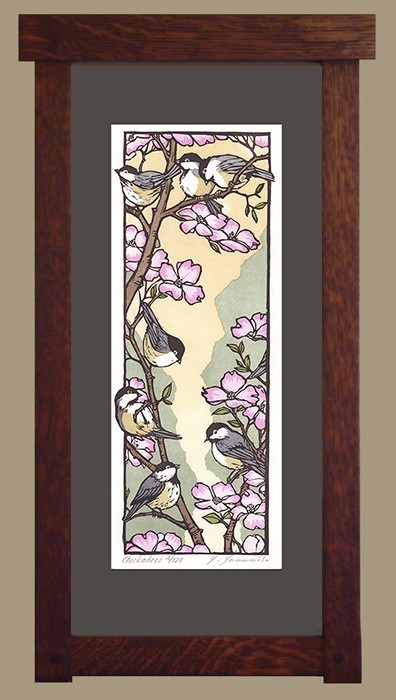 Chickadee's I
This print by Yoshiko Yamamoto is a favorite of Dard Hunter Studios. Chickadee I is with a green and tan background. Chickadee II has a blue sky background(SOLD OUT). Linoleum block print with polymer plates for printing. All letterpress printed in 100% cotton Rives BFK, from France. Limited edition of 120 prints. Matted size 9 x 20. Framed size 12 x 22 1/2.
---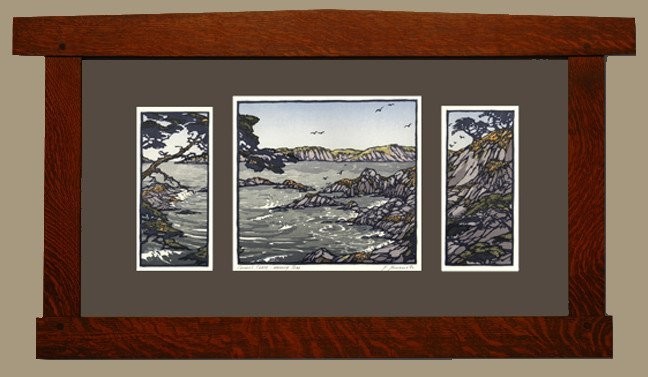 Carmel Coast- Morning
As a lover of Carmel coastline, Yoshiko created two versions of this seascape. This version of the morning scene captures the coolness of the breeze that runs through the coastal cypress trees. The poet Robinson Jeffers once wrote about the place, "[t]here is wind in the trees, and the gray Ocean's Music on the rock." Limited edition of 240. Mat size 27 1/8" x 14 3/8". Frame size 34 1/4" x 19 1/2".
---
The Golden Gate - Summer Fog
This print is letterpress-printed, using fourteen block on 100% cotton paper. Limited edition of 220. Mat size: 15.5" x 29.5"
Frame size: 21.25 x 36.50.
---
"Cherry Blossoms" from "Wisdom of Trees" series
Originally commissioned by American Bungalow magazine, this "Cherry Blossoms" print was designed by Yoshiko Yamamoto and was printed letterpress on her Vandercook model 6. It is now available for purchase. Limited edition of 300, all signed and numbered. Matted size: 14" X 17" approximately. Framed size: 17" x 20" approximately.
---