Mortise & Tenon Frames
Our Mortise and Tenon Frames are beautifully hand finished in quartersawn white oak with true mortise and tenon joinery. Read more about our frame construction here. Frame stiles are 3 inches on the horizontal and 2 inches on the vertical. Square frames use wider wood pieces on all four sides.
Legacy Frames
Our Legacy frames are constructed from 3 inch quartersawn oak stock and finished in our four step Signature process that provides a beautiful patina that will last for years to come. The frames were designed primarily for framing our large selection of Motawi and Porteous tiles but can be used to frame anything you wish. The frames are beveled slightly toward the middle to enhance your viewing of the subject matter. Legacy frames are also available with dividers for framing multiple subjects. The frames have mitered corners that are joined using a biscuit to provide a strong, long-lasting joint. Read more about our frame construction here.  Purchase Legacy Here
Oak Park Frames
Oak Park frames are our most affordable frames. They are crafted of 2 inch flat quartersawn oak and finished using our 4 step Signature process producing a beautiful frame for those wishing to have a nice, basic look without sacrificing top-quality materials and craftsmanship. Read more about our frame construction here.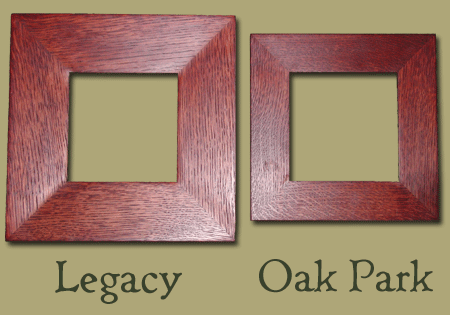 Click this picture to see a side-by-side comparison of equally sized Legacy and Oak Park frames. Purchase Oak Park Here
Custom Frames
We are one of the few frame shops around capable of doing custom production work. No matter what your needs are — for one frame or 100 — we take our time to ensure each frame is made to our exacting standards. And, we're within easy driving distance to the sawmill supplying our quartersawn white oak, keeping our costs low. Read more about our frame construction here.
We have made custom mirrors and frames for many hotels, resorts and retreats around the country, and look forward to providing you with the highest quality product possible. For more information, a price quote or to order please call us at (740) 774-1236 or toll free at (800) 986-3273.
Finishes
The standard medium brown Signature finish that is used primarily here at Dard Hunter Studios has taken us many years to perfect. It is a four step process, the final of which is a hand rubbed wax, just like Stickley used on his furniture. This gives our work the patina of a well seasoned family heirloom that will withstand sunlight and wear and provide beauty and enjoyment for years to come.
We also offer, as a special order, a lighter Golden Oak finish (pictured at left). The Golden Oak finish is just a shade darker than natural oak and provides a beautiful alternative for those who would like to match lighter finished furniture or just prefer the look of a more natural wood. For more information or to order please call us at (740) 774-1236 or toll free at (800) 986-3273. There is no extra charge for this service and all of our products are available in this finish.