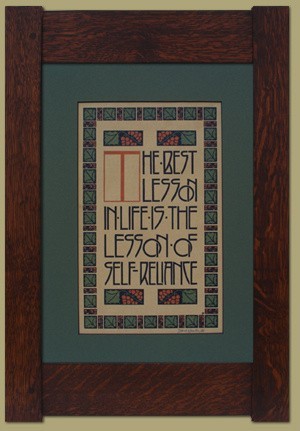 Special Edition Motto 64C - The Best Lesson- UNAVAILABLE
This motto design was executed by Dard Hunter between 1905 and 1911 for the Roycrofters, and has been reprinted on the same hand press used by Hunter at his Mountain House Studio. We use only the finest handmade paper to ensure harmony with each print. Matted and framed in our own handmade quartersawn white oak frame. Available unframed or framed in either our Mortise & Tenon or Oak Park style frames. Matted to fit a 12 x 17" frame. THIS ITEM IS TEMPORARILY OUT OF PRINT- DELIVERY MAY BE DELAYED.
SKU Number: 64C
---
PLEASE NOTE: Shipping Weights as shown here, especially for multiple items, are estimates. Your actual shipping charges may be less, and will be charged to your card only after exact weight and final shipping charges are determined at the time of shipping.
---



Contents Copyright © 2002-2011 by Dard Hunter Studios and Dard Hunter III. All Rights Reserved.
Please report any problems to webmaster@dardhunter.com.