Our Legacy frames are constructed from 3 inch quarter sawn White Oak stock and finished in our four step Signature process that provides a beautiful patina that will last for years to come. The frames were designed primarily for framing our large selection of Motawi and Porteous tiles but can be used to frame anything you wish. The frames are beveled slightly toward the middle to enhance your viewing of the subject matter. Legacy frames are also available with dividers for framing multiple subjects.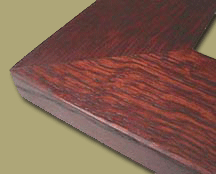 The frames have mitered corners that are joined using a biscuit to provide a strong, long-lasting joint. Read more about our frame construction here.
All of our frames are made in our 6,000 square foot workshop by one of our five craftsmen. Dard Hunter, III hand selects every piece of quarter sawn White Oak to ensure optimal ray flake in every frame. Once the selection is made, he then turns the board into one of 5 moulding profiles which are then cut, joined, sanded and finished. Any wood that does not meet his meticulous standards is made into flooring, accounting for approximately 25% of our annual consumption of Oak. We purchase several thousand board feet of quarter sawn Oak at one time allowing us volume discount pricing which we pass on to our customers by producing the finest Mission style frame available at an affordable price.
*Always look for our Dard Hunter Studios Rose Logo branded into the wood on the back of the frame, as your assurance that this is the 100% genuine article*
May be used for (2) 4" tiles, or (1) 4"x8" tile, however sizes differ by type of tile. Please indicate exact measurements of your tile(s) in the Comments section provided upon checkout. Mounting clips are included for simple tile installation. Outside dimension: 9-1/2 x 13-3/8.

Comes in a variety of stain color options - make your selection in the pull-down list below.

*Always look for our Dard Hunter Studios Rose Logo branded into the wood on the back of the frame, as your assurance that this is the 100% genuine article* Tile sold separately.




---

Hand made from the highest grade quarter sawn White Oak. Choose from our stock sizes on the pull-down menu below... Custom sizes are also available. Dimensions shown represent actual rear window opening.

Comes in a variety of stain color options, all hand applied and polished in our workshop.

*Always look for our Dard Hunter Studios Rose Logo branded into the wood on the back of the frame, as your assurance that this is the 100% genuine article*




---

Hold (3) 4x8" tiles, however opening sizes differ by type of tile. Please indicate exact measurements of your tile(s) in the comments section provided upon checkout. Frames are made to hang both vertically & horizontally. Mounting clips are included for simple tile installation. Exterior dimensions are 18-3/8" x 13-1/2".

Comes in a variety of stain color options - make your selection in the pull-down list below.

*Always look for our Dard Hunter Studios Rose Logo branded into the wood on the back of the frame, as your assurance that this is the 100% genuine article* Tile sold separately.




---

Frames are made to hold 4" tiles, and to hang both vertically & horizontally. Outside dimensions = 9.5" x 22". Mounting clips are included for simple tile installation.

Comes in a variety of stain color options - make your selection in the pull-down list below.

*Always look for our Dard Hunter Studios Rose Logo branded into the wood on the back of the frame, as your assurance that this is the 100% genuine article* Tile sold separately.




---

Holds one 4" tile. Outside dimension: 9.5 x 9.5. Mounting clips are included for simple tile installation. Comes in a variety of stain color options - make your selection in the pull-down list below.

*Always look for our Dard Hunter Studios Rose Logo branded into the wood on the back of the frame, as your assurance that this is the 100% genuine article* Tile sold separately.




---

May be used for (3) 4" tiles, or (1) 4"x12" tile, however sizes differ by type of tile. Please indicate exact measurements of your tile(s) in the space provided upon checkout. Available with or without dividers. Frames are made to hang both vertically & horizontally. Mounting clips are included for simple tile installation. Outside dimension: 9.5" x 17.25".

Comes in a variety of stain color options - make your selection in the pull-down list below.

*Always look for our Dard Hunter Studios Rose Logo branded into the wood on the back of the frame, as your assurance that this is the 100% genuine article* Tile sold separately.




---

Designed to display an 8" Motawi tile flanked by two 4"x8" tiles as shown. Mounting clips are included for simple tile installation. Exterior dimensions are 23" w x 14" h.

Comes in a variety of stain color options - make your selection in the pull-down list below.

*Always look for our Dard Hunter Studios Rose Logo branded into the wood on the back of the frame, as your assurance that this is the 100% genuine article* Tile sold separately.




---

Designed to hold two 6" tiles, but sizes can differ by type of tile. Please indicate exact measurements of your tile(s) in the comments space provided upon checkout. Available with or without dividers, and hangs both vertically & horizontally. Mounting clips are included for simple tile installation. Outside dimension of the frame is 11 1/2" x 17 1/8".

Comes in a variety of stain color options - make your selection in the pull-down list below.

*Always look for our Dard Hunter Studios Rose Logo branded into the wood on the back of the frame, as your assurance that this is the 100% genuine article* Tile sold separately.




---

Hold one 6" tile, but sizes can differ by type of tile - Please indicate exact measurements of your tile in the space provided upon checkout. Mounting clips are included for simple tile installation. Outside dimension: 11.5" x 11.5"

Comes in a variety of stain color options - make your selection in the pull-down list below.

*Always look for our Dard Hunter Studios Rose Logo branded into the wood on the back of the frame, as your assurance that this is the 100% genuine article* Tile sold separately.




---

Hold (3) 6" tiles, but sizes can differ by type of tile - Please indicate exact measurements of your tile(s) in the comments space provided upon checkout. Available with or without dividers, both styles hang vertically & horizontally. Mounting clips are included for simple tile installation. Outside dimension: 11.5" x 23.25".

Comes in a variety of stain color options - make your selection in the pull-down list below.

*Always look for our Dard Hunter Studios Rose Logo branded into the wood on the back of the frame, as your assurance that this is the 100% genuine article* Tile sold separately.




---

May be used for (1) 6" x 8" tile, however sizes can differ by type of tile - Please indicate exact measurements of your tile in the comments space provided upon checkout. Mounting clips are included for simple tile installation. Outside dimension: 12.5" x 14.25".

Comes in a variety of stain color options - make your selection in the pull-down list below.

*Always look for our Dard Hunter Studios Rose Logo branded into the wood on the back of the frame, as your assurance that this is the 100% genuine article* Tile sold separately.




---

Holds (2) 8" tiles. Sizes differ by type of tile - Please indicate exact measurements of your tile(s) in the comments space provided upon checkout. Available with or without dividers, both are made to hang vertically & horizontally. Mounting clips are included for simple tile installation. Outside dimension: 13.5" x 21.25".

Comes in a variety of stain color options - make your selection in the pull-down list below.

*Always look for our Dard Hunter Studios Rose Logo branded into the wood on the back of the frame, as your assurance that this is the 100% genuine article* Tile sold separately.




---

May be used for (1) 8" x 8" tile, however sizes differ by type of tile - Please indicate exact measurements of your tile in the comments space provided upon checkout. Mounting clips are included for simple tile installation. Outside dimension: 13.5" x 13.5".

Comes in a variety of stain color options - make your selection in the pull-down list below.

*Always look for our Dard Hunter Studios Rose Logo branded into the wood on the back of the frame, as your assurance that this is the 100% genuine article* Tile sold separately.




---

Holds (3) 8" tiles. Sizes can differ by type of tile - Please indicate exact measurements of your tile(s) in the comments space provided upon checkout. Available with or without dividers, both are made to hang vertically & horizontally. Mounting clips are included for simple tile installation. Outside dimension: 13.5" x 28.75".

Comes in a variety of stain color options - make your selection in the pull-down list below.

*Always look for our Dard Hunter Studios Rose Logo branded into the wood on the back of the frame, as your assurance that this is the 100% genuine article* Tile sold separately.




---