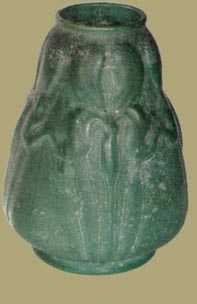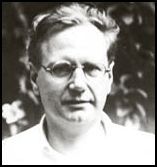 During his time with the Roycrofters, Dard Hunter experimented with several different media, including pottery, furniture, stained glass, metals, and jewelry.
His correspondence course "Things You Can Make" was a success, having many subscribers in 1908.
In 1999, Dard Hunter III found the original moulds for some of his grandfathers' pottery and it is from these moulds that we are able to reproduce a selection of his pottery today.
The Jewelry Designs of Dard Hunter
From his School of Handicraft

When Dard Hunter returned to the Roycroft from a trip to Vienna in 1908, he was anxious to try out some new designs he had in mind for metalwork, and especially for jewelry.
After great success in fabricating a few pieces of silver jewelry, he decided to teach his techniques and designs by establishing the Dard Hunter School of Handicraft. With Elbert Hubbard's permission to pursue this as a "sideline" he began advertising for students.
By 1909 he was promoting his correspondence school with ads such as the one at the left, taken from the Philistine magazine, and by distributing a little booklet called "Things You Can Make."
The school espoused his personal philosophy of the value of making things by hand.
Initially, he offered courses in "First Instruction for the Making of Hand Made Jewelry" and "Leaded Glass Windows and Lampshades."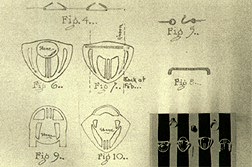 Full instructions and tools were furnished to his students, along with detailed drawings and photographs of jewelry he had designed and made. In the first year, 149 people had enrolled in the correspondence school.

Hunter supplied each of them with drawings such as these, along with tools and even silver and copper materials. By early 1910, Hunter was preparing for another trip to Vienna, and he handed responsibility for the school's activity over to Karl Kipp, another Roycroft craftsman. Enrollment was on the decline, however, and no further mention of the school or its activities was made after the fall of 1910.
The designs for our jewelry are taken entirely from Hunter's original sketches and photographs. Each piece is meticulously handcrafted from sterling silver and semiprecious stones to match the style of the originals.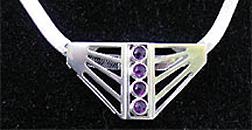 The Dard Hunter Studios Pottery
The History Behind the Unique Ceramic Designs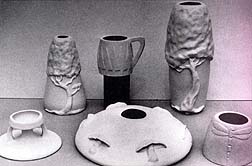 One interest, among Dard Hunter's many pursuits while at the Roycroft, was ceramic design. In 1905-1906 he made the prototypes for 6 pieces of pottery. Each piece was signed and given a mould number. Whether or not his intention was to be able to market this pottery through Hubbard, or if this was a purely experimental endeavor, we do not know. However, there are only 10 original pieces known to exist, suggesting that the latter is more likely. The Metropolitan Museum of Art has 6 of these pieces in their collection.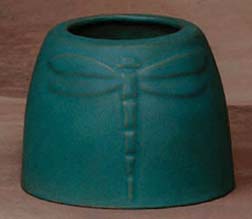 Once the prototypes were made, Dard produced one mould for each design. We have recently discovered four of these original moulds in the archives of the Mountain House along with the original glaze recipe for a mat green glaze.
Using these moulds of the candle holder, tree vase, tree mug and dragonfly vase, we have cast 50 of each design in porcelain and applied a mat green glaze very similar to the original formula.